Stand with Standing Rock
The struggle of the Standing Rock Sioux Nation and its allied water protectors against the Dakota Access Pipeline stands as one of the most significant causes of our time. Construction of the pipeline brought to the forefront a host of issues that included the trampling of indigenous rights and treaties, the desecration of sacred lands, the endangerment of the Missouri River, the building of fossil fuel infrastructure that would accelerate climate change, and the militarized response of law enforcement to peaceful acts. 
In August of 2016, the collegium of the UCC followed the leadership of the UCC's Council for American Indian Ministries and issued a statement that highlighted many of the key issues involved in calling for active solidarity with Standing Rock through online advocacy.In addition to action alerts, the UCC national setting initiated an ecumenical online call for action signed by 300 clergy and an interfaith statement signed by nearly 2,000 faith leaders.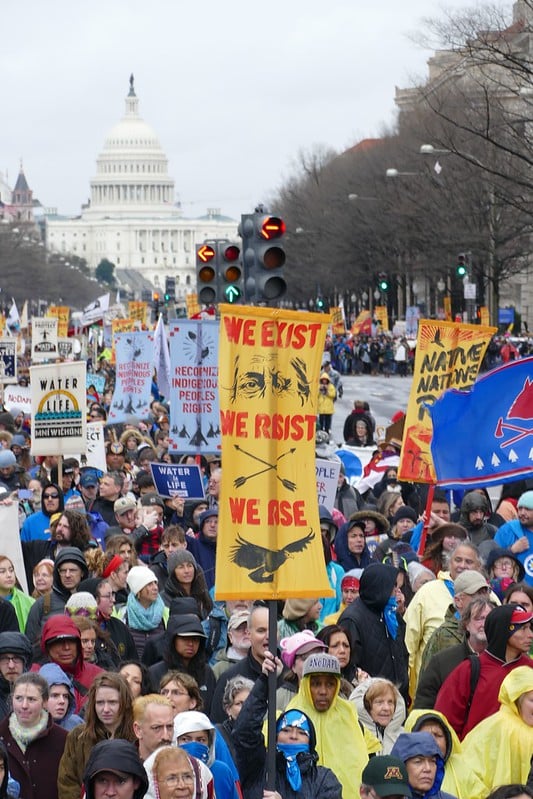 Updates
In late 2016, the Obama administration declined to grant the final permit necessary for drilling. President Donald Trump subsequently signed an executive action that signaled his support for advancing the Dakota Access pipeline. In his Presidential Memorandum to the US Army Corps of Engineers, President Trump ordered that permit for the the Dakota Access Pipeline be approved in an expedited manner, to the extent allowed under law.
In early February, the Army Corps of Engineers acted on this order and granted final approval to the much-contested last section of the Dakota Access Pipeline. Oil started flowing through parts of the pipeline in March and leaks began to occur before the pipeline even became fully operational on June 1st. In early March, more than 100 gallons were leaked in two separate instances from the pipeline and a line feeding into it as work crews prepared for operations. On April 4th, there was another spill of 84-gallons from the pipeline in South Dakota.
Action
One of the notable successes of the Standing Rock Movement is a powerful tactic that it advanced: divesting from banks that fund pipelines. An effort began with opposition to the Dakota Access Pipeline has now spread as leading organizations like Honor the Earth, the Sierra Club, and 350.org push for divestment from banks funding other pipelines. A number of online resources have emerged to help individual investors divest. One is called Breaking up with Your Mega-Bank.
Education
Engage your congregation in activities of reflection and repentance in considering the Doctrine of Discovery, a legal concept arising from church documents that authorized and, indeed blessed, Christians to kill non-Christians and possess their lands and resources. The repudiation of this doctrine served as a central point of focus for the clergy who gathered in Standing Rock. The United Church of Christ has developed resources to assist congregations in addressing the destructive legacy of Christianity that continues to impact the world today as Standing Rock amply demonstrates.
General Synod
Justice and Witness Ministries of the United Church of Christ presents its major social justice award, the Movement Makers Award, at General Synod. This year it will be given to the International Indigenous Youth Council. Learn about this incredibly inspiring group of young people by reading an in-depth portrait of them in the New York Times entitled "The Youth Group That Launched a Movement at Standing Rock."
Articles & Commentaries