Your One-Stop Shop for Research Resources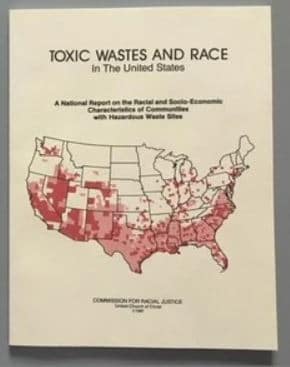 Since the release of its 1987 report on Toxic Wastes and Race in the United States, the UCC has been involved in demonstrating through the use of maps how sources of environmental injustice are often located near low-income neighborhoods and communities of color. Today, there are a host of websites that can provide a wealth of information about environmental harms in your community and state. 
Recommended Sites for Local and Regional Research
The Energy Justice Map
You can insert your address or zip code into this map and learn about both dirty and clean facilities in your area. Facilities categorized as coal, nuclear, biomass, trash, hydro, geothermal, wind, solar, and more can all be found here. Moreover, you can add layers to the map that show you the racial demographics and income levels of your community and the surrounding areas.
Coal Ash Contamination Map
Utilities have long dumped coal ash into unlined ponds and landfills where the toxins leak into groundwater and threaten the safety of drinking water.
Map of Fracking Activities in Each State
This map program can tell you about oil and gas drilling in your state along with related earthquake activities.
Map of Fraccidents
Earthjustice created this interactive map that details reports of poisoned drinking water, polluted air, industrial disasters, and more that are related to oil and gas drilling.
Factory Farms
Food and Water Watch issued a report which shows where factory farms are located. These are farms that confine thousands of cows, hogs, and chickens in tightly packed facilities. These farms generate air and water pollutants that pose health hazards to workers and neighboring communities.
Food Access Research Atlas
This map provided by the United States Department of Agriculture provides information on food access for census tract areas. For a first time user, it can be helpful to begin by reading about how the USDA measures food access
Lead Poisoning Risk Map
This map indicates the relative risk of lead exposure throughout the United States. Further information and background is also provided in an article entitled, "Lead Exposure Risk in your Neighborhood."
Map of 100 Super Polluters for Toxic Air Emissions
In 202, the UCC mapped the location of 100 super-polluters for toxic air emissions as part of its report entitled "Breath to the People: Sacred Air and Toxic Pollution."