Never Ourselves Alone: Democratic church governance can be messy
True, a church like ours — born from a diverse mix of Congregational, Presbyterian and Lutheran roots, but with "United" as the first word in its name — we're not readily understood by outsiders. But that's not even the half of it.
More problematic, it seems, is how many of our own members do not embrace the democratic form of church governance that our forebears cherished as central to their Christian identity.
These days, we often forget that General Synod statements (no matter how significant or insignificant one considers them to be) are decided collectively by local church members representing each of our 39 Conferences. No popes. No bishops.
This July, elected delegates from across the United States and Puerto Rico will gather for General Synod 25 in Atlanta. There they will wrestle over many weighty issues brought forward by the very people asked to consider them — local UCC members.
Contrary to longstanding misconceptions, out-of-touch cronies in Cleveland didn't pen the proposed resolutions. In fact, if truth were spoken, many at the Church House (and in our Conference offices) probably cringe at the thought of anything upsetting the apple cart. In any organization, "can't we all just get along" is the typical bureaucratic mantra. We'd rather things go smoothly — less email, fewer phone calls.
If anyone is to blame, it's you — and all who believe in a democratic form of church governance, despite its difficulties.
Next month, for example, delegates will be asked to consider three distinctly different proposals on marriage. It's likely to be rough, no matter the outcome. So, if you're wanting to curse the instigators, you'll have to look in the direction of Texas, California or Maryland to find them.
In the same way, folks from Hawaii, Montana, Washington and Pennsylvania are responsible for two complex resolutions on the Middle East. Minnesota churches are proposing more examination of accessibility issues. Congregations in Northern California – Nevada are asking for more environmental education, and South Dakota's churches are requesting consideration of a new senatorial model of General Synod. And, if that weren't enough, nearly two dozen more proposals await delegates' consideration.
To be accurate, the Covenanted Ministries' boards of directors (comprised of UCC members from across the country) have an opportunity to submit proposed resolutions, just like other settings of the church. But the point is — it's not Cleveland's Synod; it's your Synod.
If there's infighting, controversy or even grace-filled surprises, it's no single setting's doing. It's the collective work of Christ's church. We all share in it.
If you or your church feels out of sync with our connectional process, then the best defense is a good offense. Propose your own resolutions. Attend General Synod. Offer your name as a candidate to be a delegate. Learn the process, and begin to participate and rejoice in the representative way we have organized our common life.
For two millennia, the church has subjected itself to the Holy Spirit's pushing and shoving. We believe our diversity enriches and instructs us, even if we must endure some tension both during and after the fact. We are forced to wrestle with our togetherness.
Despite our tendency to think otherwise, disagreement is not the greatest threat facing the church. Our worst fear should be that, in a bow to smugness, we one day will ignore prayerful discernment altogether. God is still speaking,
---
Related News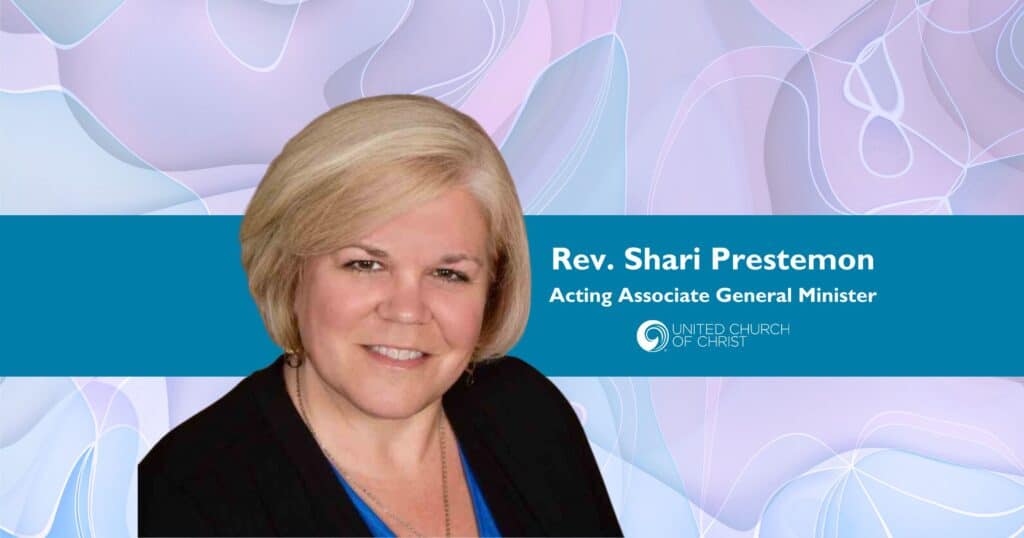 A new United Church of Christ national leader has been called. The UCC Board voted in a...
Read More