Just Peace Sunday 2021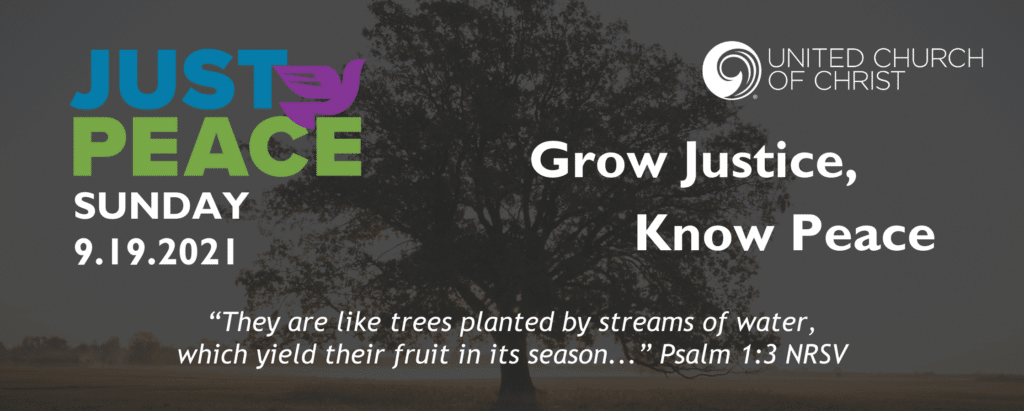 The Thirtieth General Synod called on the congregations of the United Church of Christ to mark the Sunday preceding September 21 (which the United Nation recognizes as the "International Day of Prayer for Peace") as Just Peace Sunday.
In 2021, Just Peace Sunday is September 19th
"Grow Justice, Know Peace"
The theme for Just Peace Sunday 2021 is "Grow Justice, Know Peace!" based on the lectionary passage Psalm 1:3a:
"They are like trees planted by streams of water, which yield their fruit in its season." (Psalm 1:3)
In 2021, we find ourselves still mired in a dangerous pandemic impacting and dividing our communities in many ways. We have lost loved ones and face a myriad of COVID-19 challenges and fears. Our children, the unhoused, the unemployed, and other vulnerable populations suffer both in the U.S. and around the world where vaccine access still remains scarce.
At the same time, we are witnessing the trauma in Afghanistan as refugees flee Taliban rule and the debate over the human and financial cost of war continues. We face daily reminders of the urgency of the climate crisis, deepening poverty, systemic racism, and the erosion of our democracy. Life feels uprooted, scarce, and uncertain in so many ways. We do not see the "fruits" of our years of struggle and labor we had hoped to enjoy by now.
Yet, Psalm 1:3 reminds us that there is still hope. Although our branches may be barren now, we are reminded that hope is not seen by looking at the fruit, but rather at the roots. Gardening is not passive, but active. The trees were "planted" near streams of water with intention and the root systems share nutrients to bear fruit. As new research on trees has discovered, trees, like us, are communal and rely on one another.
By rooting deeply in God, community, love, and justice, fruit will come in its due season. To know peace and experience the fruits of the spirit (Gal. 5:22-23), we must invest in, nurture, and grow justice.
Let us "Grow Justice, Know Peace!" Together!
Rev. Michael Neuroth
Observe Just Peace Sunday! Here are some resources to use in your congregation:
Worship Resources
Music
Hymn Options from the New Century Hymnal and Sing! Prayer and Praise Hymnal
Call to Worship
Come to the Waters SPP #3
Opening Hymn
For the Healing of the Nations NCH #576
In Christ There Is No East or West NCH #394
Thank Our God for Sisters, Brothers NCH #397
Prayer Hymn
O for a World NCH #575
Dream God's Dream SPP #120
Communion
Eat of this Bread SPP #153
Blest Be the Tie that Binds NCH #393
Closing
Lead Us from Death to Life NCH#581
We Shall Not Give Up the Fight #437
Benediction
Peace SPP #193
Sent Forth by God's Blessing NCH #76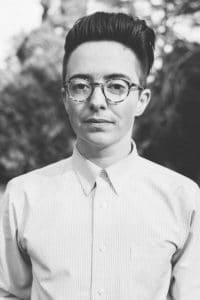 Educational Resources
This year in connection with Just Peace Sunday we are highlighting the model of "Mutual Aid Networks" which became a powerful community resource during the pandemic. Watch the panel discussion with author, Trans-activist, and law professor Dean Spade as well as two UCC Clergy, Rev. Molly Baskette and Rev. Nathan Watts, on how congregations can form or support Mutual Aid Networks to move from charity to solidarity and build resilience and peace in our communities. Dean's latest book, Mutual Aid: Building Solidarity During This Crisis (and the Next), was published by 2020 and is soon to be published in Italian, Spanish, Thai, Czech and German.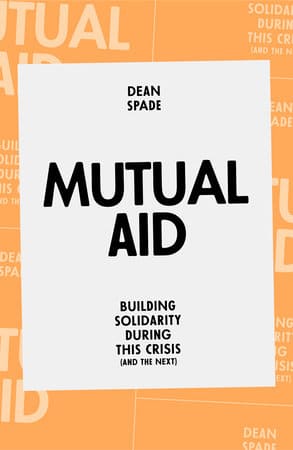 Mutual Aid Networks
More to come! – More resources will be posted as we get closer to Just Peace Sunday. If you are interested in contributing a prayer, litany, or sermon, please email Rev. Michael Neuroth.
Art for Just Peace Sunday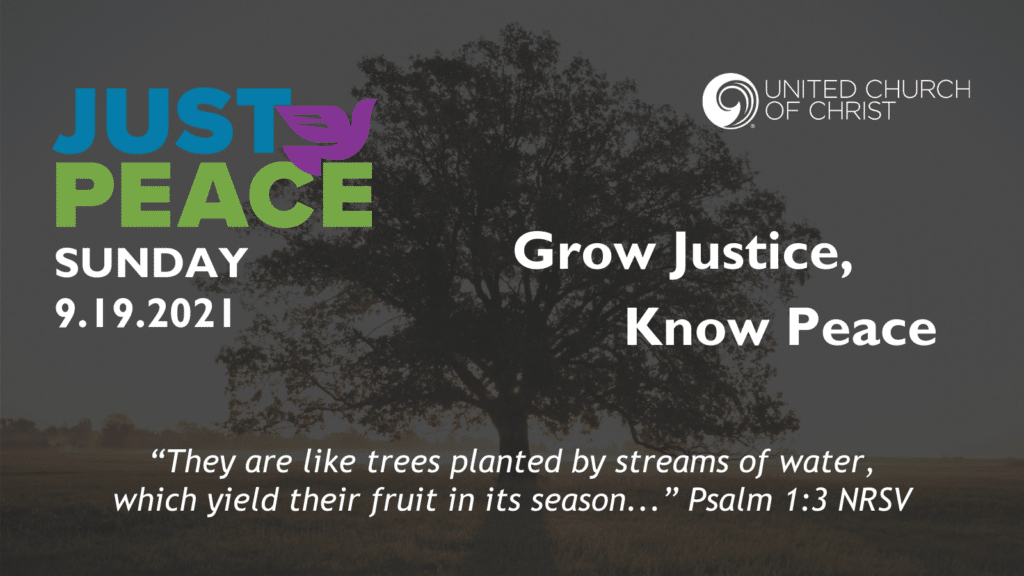 Check out this Google folder resource of images of trees you can use in PowerPoint slideshows for Just Peace Sunday. Permission for use is given by Rev. Denise and Caitlin Anderson.
Craft Activity for Youth and Children
Observe UCC Just Peace Sunday, church-wide, by giving your children a biblical look at Just Peace and making a craft with your church youth and children. Click here for instructions on how to make a handprinted tree to go along with our theme "Grow Justice, Know Peace."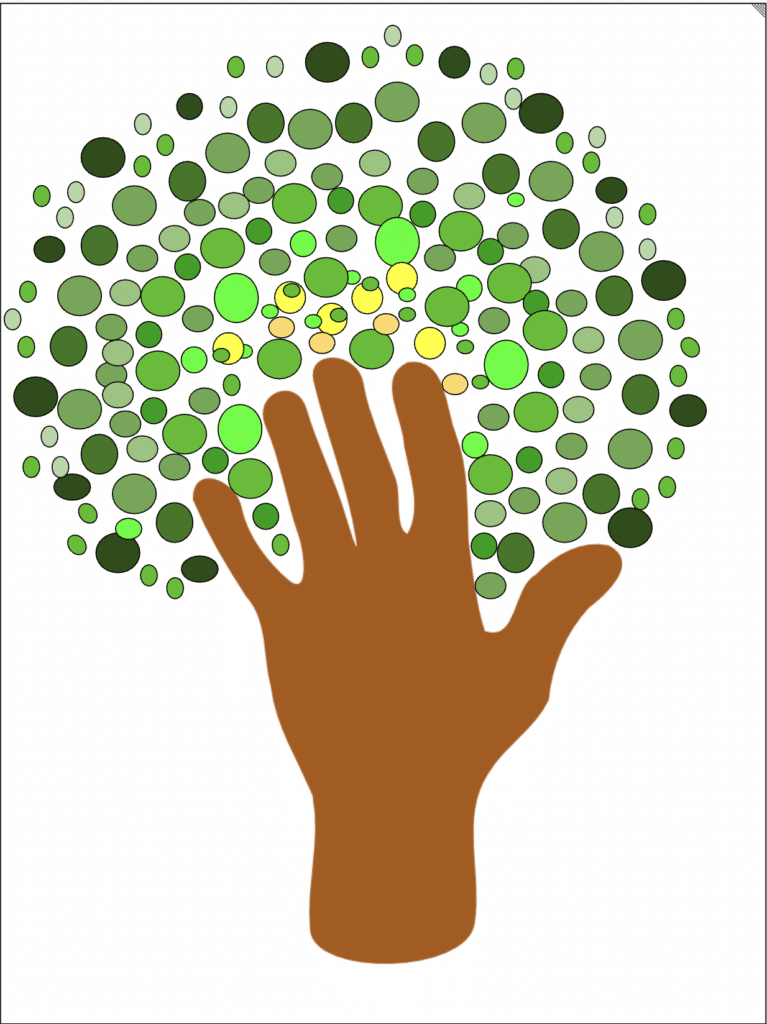 While your children are crafting consider inviting them to sing along with music about peacemaking.
Consider sending pictures, or the actual doves, to your state and national leaders as an act of advocacy. And please send us the pictures so that we can share them with UCC congregations across the country! Post them on Twitter and tag @JustPeaceUCC or email neurothm@ucc.org
Study Resources
Download the Just Peace Handbook
In 2015, the 30th General Synod held in Cleveland, OH marked the UCC's 30th anniversary as a Just Peace Church and called for a renewal of the UCC's Just Peace witness. This booklet is intended to accompany this resolution and be a resource for all levels and areas of the church for further work and witness, especially to local congregations declaring or recommitting themselves as "Just Peace Churches." This resource includes a summary of the historical and theological uniqueness of the Just Peace vision; the biblical and theological grounding for Just Peace values; and recommended steps for how to become a Just Peace Church. (Download.)
Find additional resources here.
What is Just Peace?
Just Peace is not a destination, but a path requiring awareness and constant vigilance to resolve existing and developing conflict in ourselves, our families, our communities, our institutions, and our world. This path requires non-violence when possible and even when impossible to engage in love and restraint. Just Peace envisions a renewed, vibrant, diverse, and sustainable world free of violence.
Just Peace is grounded in God's activity in creation; God's covenant patience and provision in the wilderness; in the reconciling activity of Jesus Christ; in the presence of the Holy Spirit; and in the community of reconciliation. Shalom is the vision that pulls all creation toward a time when weapons are made into ploughs and all creatures lie down together without fear; where all have their own vine, fig tree, and dwell secure from want. As Christians, we offer this conviction to the world: Peace is possible!