Daily Devotional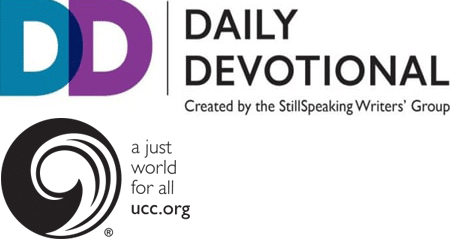 The Daily Devotional is a spiritually deep well, to which thousands of readers are drawn each day. The overall voice of the Daily Devotional is tended by the Stillspeaking Writers' Group and supported by the staff of The Pilgrim Press.
Permissions: Local Churches, Conferences, Associations, and other ministry settings of the United Church of Christ may use these reflections for any not-for-profit use by any medium, so long as credit is given to the reflection's author and its content is not altered in any way. For other uses and permissions questions, email the team of The Pilgrim Press: permissions (at) thepilgrimpress (dot) com.
Use the search box below to find past Daily Devotionals. You can search by keyword (i.e. love, justice, etc.) or author name.
Restore to me the joy of your salvation. - Psalm 51:12a (NRSV) On a pre-pandemic flight, I...
Read More
But the Lord answered her, "Martha, Martha, you are worried and distracted by many things,...
Read More
Discussion Questions The author alludes to the differences between the endings of the Gospel of...
Read More
We are fools for the sake of Christ. – 1 Corinthians 4:10a (NRSV) The YA fiction writer...
Read More
Discussion Questions How do you answer the author's question: "Where are you feeling almost...
Read More
Discussion Questions Do you have friends or family who are Q-Anon followers? How have you tried to...
Read More
Discussion Questions The author suggests that, in the midst of change, the changes we can't yet...
Read More
If you confess with your lips that Jesus is Lord and believe in your heart that God raised him...
Read More
John answered them all, "I baptize you with water. But one who is more powerful than I will...
Read More
Sign up for the Daily Devotional