Crowds flock to rural county's 1st Pride fest, with Ohio churches' help
Flags flew in stars, stripes and rainbows as a librarian, two pastors and a drag queen took the stage on an Ohio family farm. Ashtabula County's first-ever Pride festival was about to get underway on Saturday, June 5.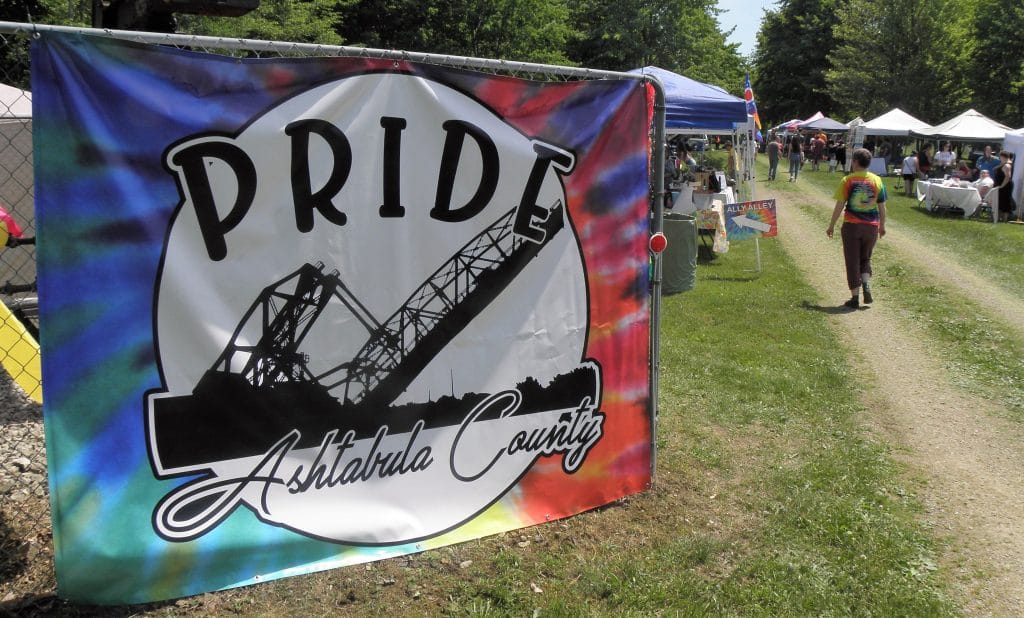 Their journey to that outdoor stage had been long and not without resistance. But to quote a 2009 Miley Cyrus hit that blasted from the stage later in the afternoon, nothing was going to stop this "party in the U.S.A."
First came formalities like those one might see at civic festivals anywhere in America:
The crowd grew respectfully silent as local resident Marcus Lowery sang the national anthem.
Military veterans were invited to raise their hands. The crowd applauded.
The Rev. John Werner from First Congregational UCC in Jefferson, the county seat, gave a prayer.
Librarian A.J. Petro of Kingsville read a proclamation from the county commissioners, "recognizing National Pride Month" and the day's celebration. It asserted "the rights and protections of all members of our community … to live peacefully and be treated with dignity and respect." And it acknowledged LGBTQ+ people and "the important roles they play in our community."
Then up went the music and the energy. The day's emcee — Mona Lotz — took the mic. For LGBTQ+ people and their allies, the celebration was on.
Making history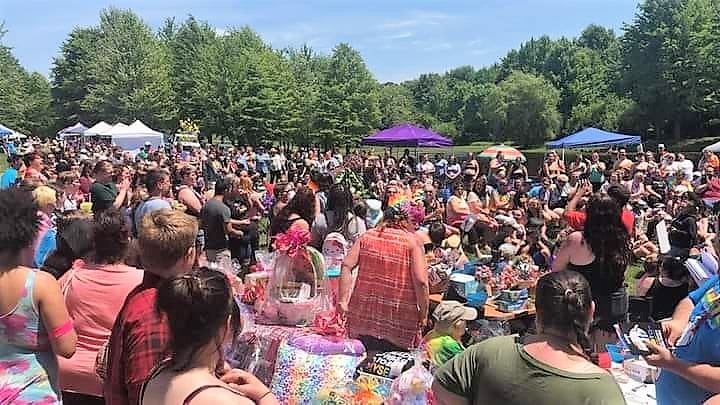 And a history-making party it was. Hundreds of people were already present for the noon opening. By mid-afternoon the crowd was over 1,000 and overflow parking was in effect. A local news outlet said the day's attendance was about 2,000. By day's end, one organizer guessed more than 3,000 had visited over the course of the day.
Lemonade, burgers, fries, funnel cakes and snow cones fed the crowds. Visitors young and old strolled by rows of tented booths where vendors and groups hawked products, brochures and giveaways. Kids enjoyed a playground, face painting and a petting zoo. Adults — and teens of age — could register to vote, get COVID-19 vaccinations from the county health department and take HIV tests offered by a local hospital.
It was a 21st-century kind of festival, but it connected to the past, too. Petro, in reading the proclamation, invoked the county's underground-railroad heritage. She called out First Congregational's centuries of social-justice courage. The church had hosted a woman's suffrage convention in 1844. Famed abolitionist John Brown had spoken there in 1859.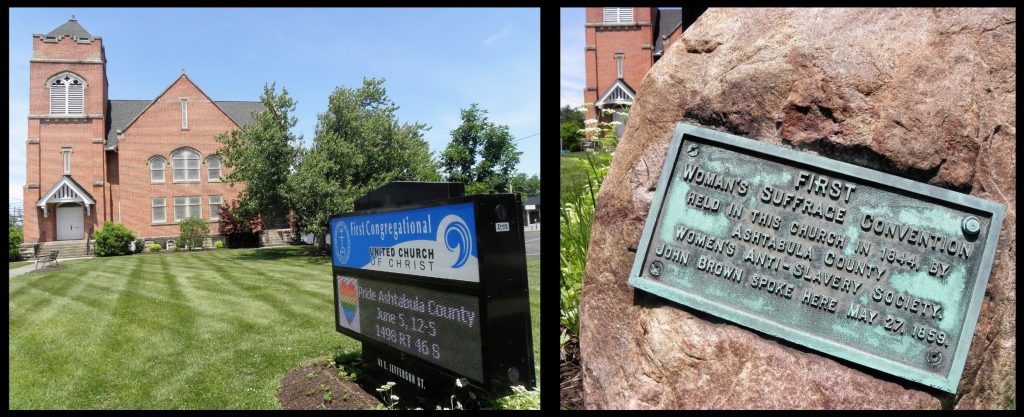 Now the church's digital reader board in the center of Jefferson was proudly advertising today's event, a mile-and-a-half south of town.
Fact is, Pride Ashtabula County might not have happened at all without the persistence of the librarian, the two pastors and the drag queen — and the welcome of a friendly farm family.
'Identity and purpose'
It all began in 2019, with Werner and the Rev. Bill Daywalt of Kingsville Presbyterian Church. They discussed the need, Werner said, "to foster a sense of belonging and identity for LGBTQ+ persons" in the county, situated in the Appalachian foothills and plains an hour east of Cleveland.
"Bill and I met over a series of months, talking and dreaming of a day when LGBTQ+ could feel free of fear and find a sense of identity and purpose in the county," Werner said. By March 2020 they had connected with Petro, a known community ally, and formed the LBGTQ+ Community Club. Then the COVID pandemic struck. But the group met anyway, online and in small, socially distanced gatherings.
In April 2021 the idea of a Pride picnic surfaced. Werner urged the group to think bigger. "I said, 'Pride is not a church picnic. It is an event to celebrate inclusion and identity. We need more.'" He started contacting "drag queens, musicians, people who gave pony rides and petting zoos." Then, he said, Lotz stepped forward, bringing needed energy and connections.
"Mona was raised in Ashtabula County with a Pentecostal upbringing," Werner said. "She is a spitfire who knows how to get things done." She launched an ad campaign. Soon Pride had 45 sponsors, many of them small businesses.
Public objections
Then came final hurdles: location, and public objections. The group put down a deposit to use a township park. Then — in a matter of some controversy that drew local news coverage — the county parks department asked them not to hold Pride in the park after all.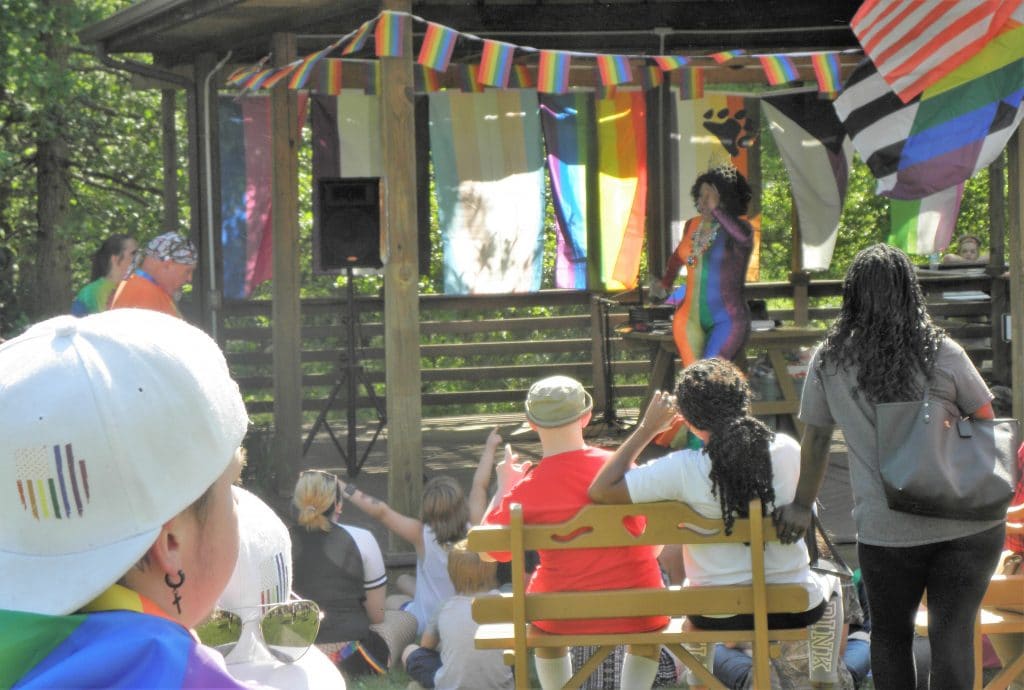 The planned celebration — and its welcome of children — also drew citizen resistance. Nine residents came to a county commissioners' meeting to register their "displeasure," Werner said.
More ominously, Werner learned of critical sermons posted by local conservative evangelical and Pentecostal pastors and lay people. Some, he said, threatened "to protest, infiltrate Pride and host 'pray the gay away' revivals in our county."
For Werner, a famous 1969 music festival then came to mind. "We need a place like Woodstock, where we cannot be kicked off due to religious and political pressure," he told Daywalt. Cheri and Mike Hamper Jr. — local business people and the parents of two First Congregational members — offered their farm.
For everyone's safety, the Living Water Association of the UCC's Heartland Conference agreed to fund security officers.
'Just, why not?'
In the end, Pride came off with no disruptions.
First Congregational members Bob Boggs, Judie Sylack and Jerrid Francis staffed a booth proclaiming the church's Open and Affirming welcome. They offered community signups for an Our Whole Lives faith-and-sexuality learning program the congregation hopes to start this fall.
Why was it important for the church to be present for Pride? "Just, why not?" Sylack said. "It's just another step on the journey," Boggs said. "It's part of reaching out to the community — letting the LGBTQ community know they're welcome."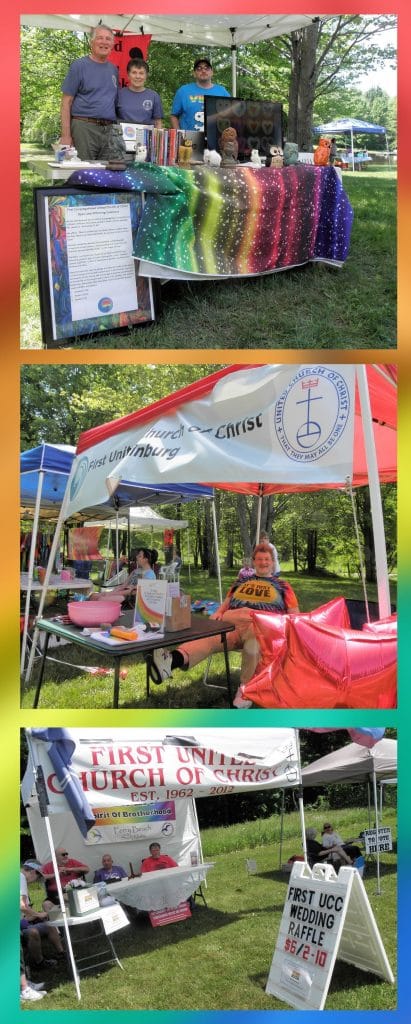 'Spread that message'
Two other area UCC churches had booths, too.
First UCC of Eastlake ran a wedding raffle, offering its sanctuary and the officiating services of its pastor, the Rev. David Herrin, to the lucky winners. "The church is all-inclusive, as the gospel tells us to be," said member Peter Herrin, the pastor's husband. "It's important to spread that message."
"I think it's important that the LGBT community, their friends and families, can get out in the open and meet and talk and have a good time in the daylight," added a First UCC friend who identified himself as Dave K.
Over at the First UCC of Austinburg booth, the Rev. Bill Terry wore a UCC "It's just love" T-shirt. "We consider ourselves to be a safe place and an ally," he said. A rainbow-adorned flier offered "12 steps for families and friends in the Christian tradition who are learning to be allies."
Rural courage
Executive Director Andy Lang of the UCC Open and Affirming Coalition said ONA leadership from churches in rural areas matters.
"Over the past decade, the number of rural congregations seeking ONA certification has grown significantly," Lang said. "These small congregations are part of the growing edge of our movement. Most larger urban and suburban churches in the UCC have been ONA for some time.
"In rural communities, where LGBTQIA+ people are often isolated and without support structures — including young adults — ONA churches are sometimes the only places where they and their families can find community."
At Pride's closing ceremony, organizers promised it would be the first of many for years to come. Werner said the church's leadership role took courage — and was worth it. "Being Open and Affirming is not an easy task, but neither is taking up your cross and following Jesus," Werner said. "We must keep shining and sharing the progressive, loving, good news of Jesus the Christ."
---
Related News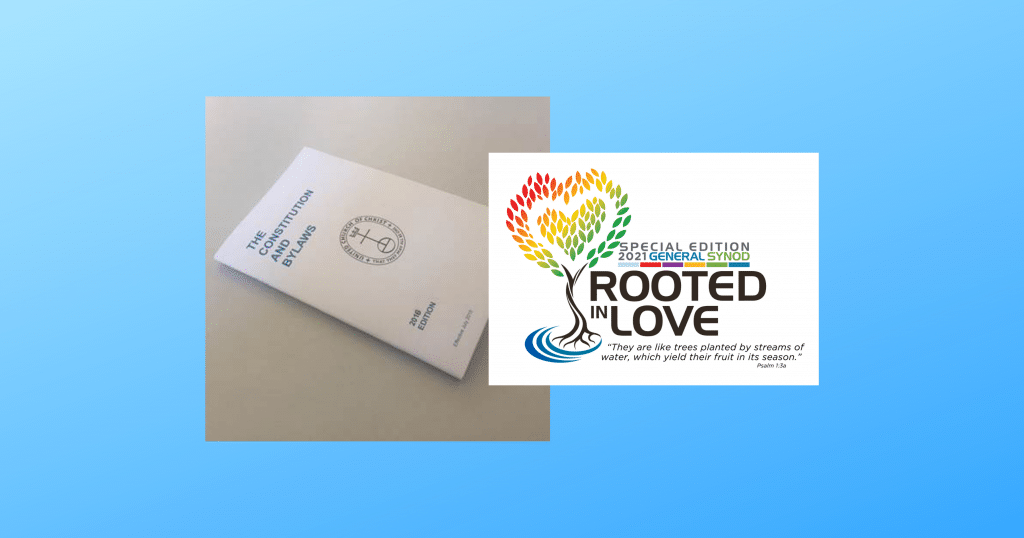 United Church of Christ delegates cared enough about Robert's Rules of Order to give them a...
Read More