It's All About the Kids, Now
Children and youth can be a way forward toward working with God's spirit to create a just world for all.
The United Church of Christ has a new mission and purpose statement.  You can find out more about it in this news story.  Our new vision says that because we are created in Christ's love we can move toward a just world for all.
As I've reflected on this new vision I've realized that this kind of new understanding of the church's work in the world can be difficult to create with adults.  Adults have a lifetime of experiences that contribute to the stereotypes, opinions, and beliefs they hold dear. Change of attitude, while not impossible, takes a concentrated effort from both the faith community and the adults involved. Yet, it is with adults that we spend much of our time and resources. However, children and youth come to us with few stereotypes and attitudes.  The few difficult habits they have picked up from the adults in their lives can be challenged and even changed.  Children and youth can be a way forward toward working with God's spirit to create a just world for all.
And even if your church does not have lots of children who come through the door on Sundays you do have children in your orbit.  A United Church of Christ seminary president is challenging every church he visits to do a "children audit" of their memberships. Everyone in your church has grandchildren, nieces, nephews, and neighbors. Neighborhoods of your church members and even your church's immediate neighborhood have children close by. Churches need to strategize about how to serve these children in their midst, yet outside their doors.  And they need to strategize about the best ways to capture their imaginations for the reign of God where all the tables are round and everyone has a seat. So what follows are a few ideas your church might want to think about.
1. Start an afterschool program of some sort. This might simply be afterschool care where children can play games or do their homework.  Or this could be a place where children learn about and participate in music and the arts.  There are lots of variations on this theme.  But make sure you include a time to help the kids engage in the stories of Jesus and understand Jesus' values of radical love.
2. Start a preschool.  Lots of churches rent out space to local preschools but think about having one of your own where you can teach children Bible stories and help them experience what it means to love God and live in the way of Jesus.  Using the Godly Play materials could provide this experience (http://www.godlyplay.org/)
3. Start a Messy Church with an emphasis on the stories of Jesus. Here's the link to the main Messy Church website (http://www.messychurch.org.uk/) but you can use the model and make the biblical content anything you'd like.
4. Instead of traditional Vacation Bible School think about holding a Peace Village (http://www.peacevillageinc.org/) or follow the lead of the church in this article from Sojourners magazine.
5. Take your youth group to a protest rather than on a mission trip. Here's a link to an article about this.
Church guru Brian McLaren in his new book, The Great Spiritual Migration, says this: "We often forget that Jesus was thirty when he launched his movement . . . In that light, let's dare to propose that Christianity should become a movement of young people again, supported by older mentors who know how to encourage without controlling." What can your church do to make this happen?
Sparking Ministry Conversations
What stands in the way of your church doing a "children audit?" What other ideas for ministry to children and youth both inside and outside the doors of your church might you add to the list?
About the Author
The Rev. Dr. Ivy Beckwith is the Faith Formation Team Leader for the United Church of Christ. Ivy and her team want to hear your stories about the transformative ideas your church has implemented in the area of faith formation. She can be reached at
beckwithi@ucc.org
or at 216-736-3875.
---
Related News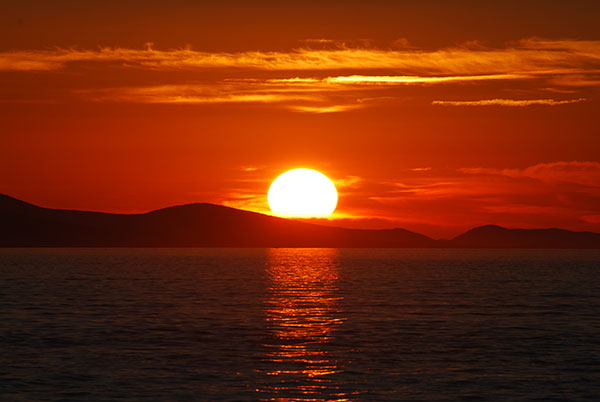 The sun is setting on Congregations Weekly, so this is the last issue you will be receiving from...
Read More