'God of Change and Glory'
On my phone, an app counts the days till what I lightheartedly call "my six-month nap," the best way, I believe, to embark on the next stage of my life: retirement.
Photo by Marianne Gaydos
On my phone, an app counts the days till what I lightheartedly call "my six-month nap," the best way, I believe, to embark on the next stage of my life: retirement. For 16 years, I've had the privilege of serving the wider church through the ministry of the national setting of the United Church of Christ, and now I face a very different time ahead. For the first time in my life, I have nothing on my schedule –– well, nothing beyond grandchildren and photography lessons and time with my Yorkies. While Sheryl Sandberg famously urged women to "Lean In," I intend to lean back and rest, and to wait for new insights and further instructions.
In 2000, as a new national staff member, I was asked by a local church to lead a workshop on transitions. So, of course, I read William Bridges' classic book, Transitions, which describes the in-between time we experience in any major change in our lives, that period when we no longer live in the old and familiar but still don't know what the new will look and feel like.
The church, I believe, is too often unfairly seen as stuck in the past. The church I've experienced –– here in the Church House and in so many local congregations whose pastors and leaders have shared their hopes and struggles with me –– that church is often in a state of transition. Pastors come and later leave, church leadership takes its turn and then passes on its responsibilities, and even buildings and mission change over time. This is true of the wider church as well, and through our long history –– all the way back to Peter, Paul and Mary (Magdalene). Perhaps we live our lives mostly in that in-between time, or at least more than we might like.
On the brink of this major change in my own life, I'm reassured by the beauty of the rhythms of nature, the seasons that bring blossoms and soft snowfalls (in Cleveland, often in that order), cool green shade and golden leaves … and then, cycles all over again. In this in-between time counted by that little app, Al Carmines' words are so lovely: "Freshness of the morning, newness of each night, you are still creating endless love and light" (God of Change and Glory).  
Whether we're a congregation or an individual abiding in that in-between time, there is so much to give thanks for: the gift of not-yet-imagined possibilities and the gift of rest; of just being, not doing. And so I –– we –– ask for God's grace to live without anxiety, trusting in the One whose grace sustains us always, whose "mercies never come to an end; they are new every morning; great is your faithfulness" (Lamentations 3:22-23). That is true in the past, in the future, and in every time in between.
Sparking Ministry Conversations
What changes are happening in the life of your church right now? How is this a time of grace as well as challenge? Does your worship service acknowledge the "in-between time" you may be in? What sustains you during a time of change?
About the Author
For the first time in 16 years, the Rev. Kathryn Matthews, dean of Amistad Chapel, does not need to order next year's UCC desk calendar.
---
Related News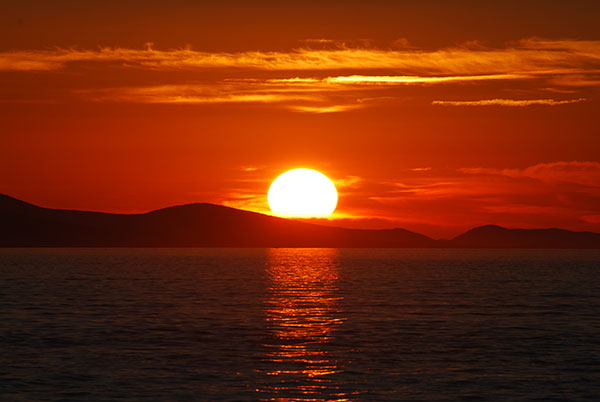 The sun is setting on Congregations Weekly, so this is the last issue you will be receiving from...
Read More