Friday, September 20, 2019 at 12:00 PM through September 27, 2019
New York City
On Fridays throughout the world this past year, students walked out of classrooms and went into the streets to compel action in addressing the climate crisis. What started as a one-person protest by Greta Thunberg has grown to a movement of millions in over 160 countries and at least 2000 locations. Youth are now calling upon adults to join them for a week of action from Friday, September 20th to Friday, September 27th. Already, the strike planned for the 20th is shaping up to be one of the largest mobilizations in the history of the climate justice movement. Because of the United Nations Climate Action Summit in New York City on September 23rd, New York City expects to see a large mobilization and a number of accompanying events. Sign-up to receive updates for actions and events such as an interfaith worship service planned for September 20th, a faith climate conference scheduled for September 24th, and plans to form a UCC contingent at the mobilization on the 20th.
RSVP
---
Sunday, October 13, 2019 at 08:00 AM through October 19, 2019
Everywhere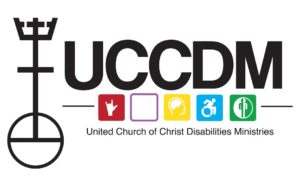 Each year, the second Sunday of October is designated on the UCC church calendar as Access Sunday. It is an occasion when all the UCC will join together in celebrating the gifts of persons with disabilities and the strides that the church has made in being more whole through being more accessible. It is also a day that we, the church, acknowledge the journey yet to be taken with our sisters and brothers with disabilities.
Pastors and lay leaders, invite your congregation to join your UCC friends around the country in celebrating Access Sunday on this day, or on a Sunday more fitting to your church calendar. Find more information and resources via our UCC Disabilities Ministries.
---